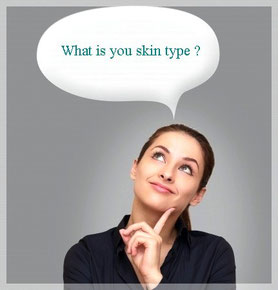 We have quite a different skin with very specific characteristics.
The nature of our skin can also change during our life.
Hormones, the age, climate, all these factors
make that our skin can evolve.

Normal, combination, oily or dry,
hydrate your skin of the inside.
Protect your skin with a good sun protection factor,
don't think if your skin is more tanned, it less needs protection !

And you... What is your skin type ?
1) Normal Skin

Well-balanced, smooth, its pores are little visible and present little of inperfections.
You just have to clean and to hydrate it, this skin type also needs to be protected against the attacks outside
and has to cope the skin aging.
2) Dry Skin
With its fine grain and of very rare imperfections, the dry skin is a smooth skin.
It's lacking flexibility, water and sebum, where from this impression of tightnesses, it needs to be hydrated in depth.
3) Oily Skin
More thick, the oily skin is less sensitive to the outside attacks and subject to wrinkles.
Its pores are dilated, it can have an excess sebum favoring the appearance of blackheads or cysts.
It needs to be purified, balanced.
If your skin presents an acne problem, please consult a dermatologist.
4) Combination Skin
The combination skin is a combination of an oily area (the zone T: forehead, nose, chin) and of a dry area (cheeks and temples).
It needs at the same time to be cleansed without aggression and to have one a good hydration.